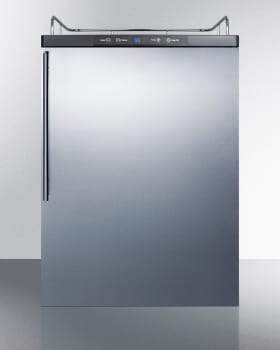 Description 24" Freestanding Custom Tap Beer Dispenser with 1 Half-Barrel CapacitySummit Appliance offers a versatile line of full-sized freestanding beer dispensers designed for low maintenance storage in the style of your choice.The SBC635MNKSSHV features a large interior that can hold a full half, quarter, 1/6 or mini keg. No tapping...
read more
Availability:
45
Qty In Stock
Regular price

$1,620.00

Sale price

$1,206.57

Unit price

per
Similar products you may be interested in
24" Freestanding Custom Tap Beer Dispenser with 1 Half-Barrel Capacity
Summit Appliance offers a versatile line of full-sized freestanding beer dispensers designed for low maintenance storage in the style of your choice.

The SBC635MNKSSHV features a large interior that can hold a full half, quarter, 1/6 or mini keg. No tapping equipment is included, allowing 'do-it-yourselfers' to customize the unit with their own system. It comes with a black cabinet and stainless steel wrapped door complete with a professional style handle. The surface includes a removable drip tray to collect spills and a chrome guard rail to help keep glasses and mugs in place. We include a set of locking casters for easy mobility.

Automatic defrost operation ensures minimum user maintenance inside the 5.6 cu. ft. interior. A digital thermostat makes it easy to manage the temperature at the touch of a button. The external digital display shows the temperature in Celsius or Fahrenheit to ensure your beer is stored exactly how you like it. The floor is reinforced with a steel cover for added durability when loading kegs.

This unit is designed for freestanding use. For built-in applications, see the SBC635MBINKSSHV.

About Summit
From innovative design to superior construction, Summit products embody quality from the inside out. Their models can be modified to meet specific customer needs, whether that means adding brass finishes to a beer dispenser for a dramatic look or installing digital controls on laboratory coolers for user flexibility. They offer a full range in style and size that includes their unique thin-line models, designed to fit in those commonly found but hard-to-fill narrow spaces. They have one of the industry's largest collection of ADA compliant appliances and proudly manufacture a dozen models of ENERGY STAR listed products. Available at AJ Madison.
This beer dispenser uses
310 kWh/yr.
and has an estimated yearly operating cost of
$37.51
.
Your operating costs will depend on your utility rates and use. The estimated operating cost is based on a 2015 national average cost of $0.121 cents per kWh.
For more information, visit www.eia.gov.
Full-sized Beer Dispenser
Large 5.6 cu.ft. interior can accept a full half barrel keg, two 1/6 barrel kegs, or a pony keg
Fully Finished Black Cabinet
Allows the unit to be used freestanding
NO TAP KIT
Install your own tapping system for a customized beer cooler
Automatic Defrost
Reduced maintenance with auto defrost system
Digital Thermostat
Electronic controls ensure easy temperature management, with an external readout in Celsius or Fahrenheit
Ideal Beer Temperature
Operates between 33° and 50°F to keep a variety of beers stored at just the right serving temperature
Stainless Steel Wrapped Door
Durable 304 grade stainless steel for elegance built to last
Professional Handle
Thin (14mm diameter) stainless steel handle mounted vertically for a sleek look that matches many popular styles of cabinetry
Casters included (Ship Unassembled)
To make the beer dispenser portable, install this set of 2 1/2" high locking casters
Top Guard Rail Included
Attractive chrome guard rail helps to reduce spills and neaten service
Stainless Steel Floor Cover
Interior includes steel cover to protect the floor when loading kegs
Drip Tray
Removable drip tray catches spills to help contain the mess
Deep Chill Function
Great for getting faster cooling results when loading your first keg
100% CFC Free
Environmentally friendly design with no ozone-damaging chemicals
Brand: Summit
Model: SBC635MNKSSHV
Type: Freestanding
Door Color: Stainless Steel
Cabinet Color: Black
Hinge Side: Right
Field Reversible Door: No
Accepts Custom Panels: No
Number of Taps: No Tap
Width: 23 63/100 Inch
Depth: 25 Inch
Height: 33 1/2 Inch
Accepted Keg Sizes: Half
Approved for Outdoor Use: No
Accepts Sanke Tap: Yes
Amps: 15
Voltage: 115 Volts
Brochure

Energy Guide

Use & Care Guide
About the Manufacturer
Manufacturer's Name Summit
Since 1969, Felix Storch, Inc. (FSI) has been manufacturing and distributing specialty major appliances to the residential, professional, commercial, hospitality, and scientific markets. Through our Summit Medical and Accucold® brand, we manufacture and distribute refrigeration for pharmaceutical, scientific, medical, and laboratory applications.
We carry over 600 basic models of specialty refrigerators, freezers and cooking appliances, including the industry's largest collection of built-in undercounter and ADA compliant models. Our residential and professional product line includes unique choices for smaller kitchens, with a large selection of frost-free refrigerators, gas & electric ranges and cooktops, wine cellars, beer dispensers, slim-fitting laundry and dishwashers, and weatherproof outdoor appliances. We also serve the commercial and foodservice market with beverage centers, display freezers, and other appliances that comply with NSF standards.
RESIDENTIAL & PROFESSIONAL COLLECTION: For over 45 years, Summit Appliance has been the industry's answer to small kitchen spaces. Our frost-free refrigeration collection is specially designed for apartment and smaller kitchens, with a variety of slim and counter deep footprints not found in big box stores.
COMMERCIAL LINE: 

Summit Commercial products include affordable storage freezers, fully assembled dipping cabinets, beer and wine kegerators, and reach-in refrigerators and freezers for use by any foodservice establishment. We also specialize in beverage merchandisers, icemakers, wine cellars, undercounter refrigeration, and back bar storage equipment in suitable footprints for smaller kitchen, bar, or retail spaces. Summit Commercial products meet UL and NSF standards for foodservice use.
MEDICAL APPLIANCES: 

Our Accucold® division offers an extensive selection of refrigeration products aimed at the pharmaceutical, laboratory, medical, and life science markets. Products range from general purpose refrigerators and freezers with locks to laboratory chest freezers designed to store sensitive frozen materials at temperatures as low as -45ºC.
We work hard to expedite the order and delivery process, offering next day shipping on virtually all in-stock products. For the Northeast region of the United States, we deliver through own fleet of FSI trucks.
Compare Similar Products
Products

Summit SBC635MWKDTWIN Freestanding white wine keg dispenser in black with digital thermostat and tap kit 5.6 cu.ft

Wine Dispenser | SBC635MWKD

24 Inch Built-in Custom Tap Beer Dispenser with 1 Half-Barrel Capacity, Digital Thermostat, Automatic Defrost, Locking Casters and Top Guard Rail: Horizontal Handle Stainless Steel | SBC635MBINKSSHH

24 Inch Built-in Custom Tap Beer Dispenser with 1 Half-Barrel Capacity, Digital Thermostat, Automatic Defrost, Locking Casters and Top Guard Rail: Black

Price & Shipping Information

$1,609.50

$2,165.00

You save($555.5) 26%

VIEW ITEM

$1,455.21

$1,955.00

You save($499.79) 26%

VIEW ITEM

$1,439.67

$1,935.00

You save($495.33) 26%

VIEW ITEM

$1,147.74

$1,540.00

You save($392.26) 25%

VIEW ITEM

ID

7679762497760

7679762628832

7679762628832

7679753781472

SKU Number

SBC635MWKDTWIN

SBC635MWKD

SBC635MBINKSSHH

SBC635MBINK

Class

Kegerators

Kegerators

Kegerators

Kegerators