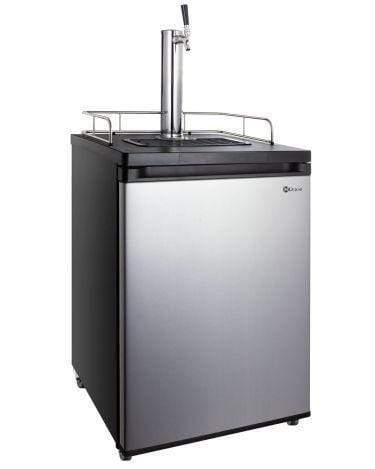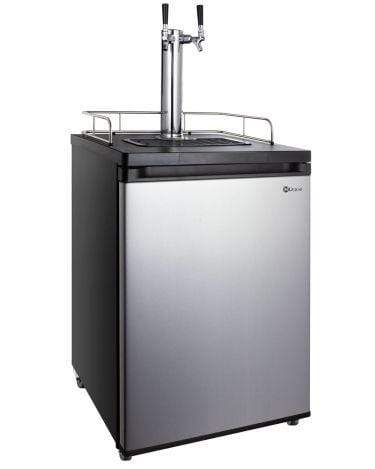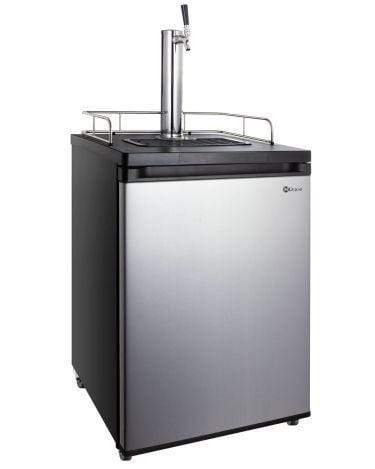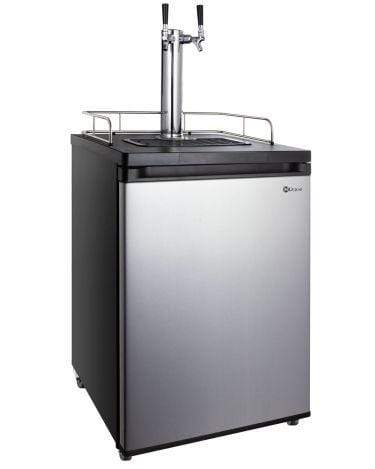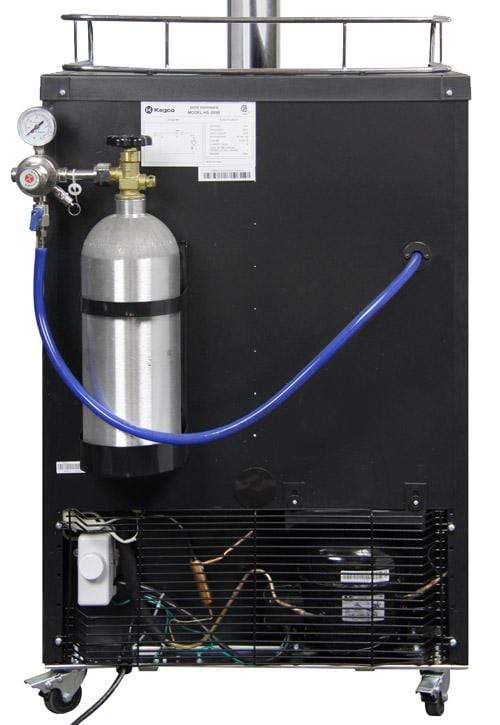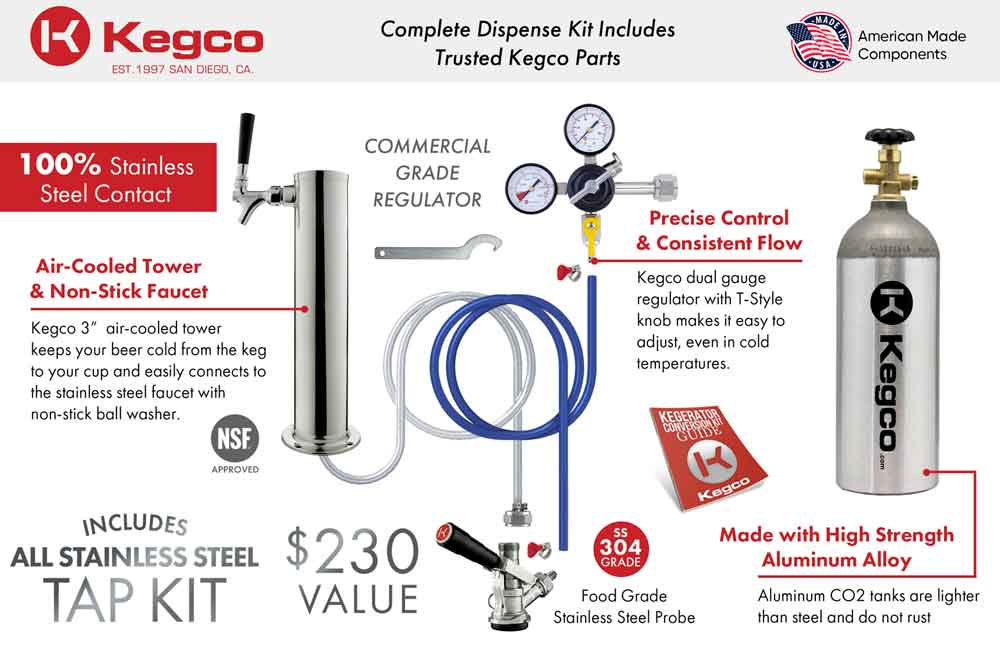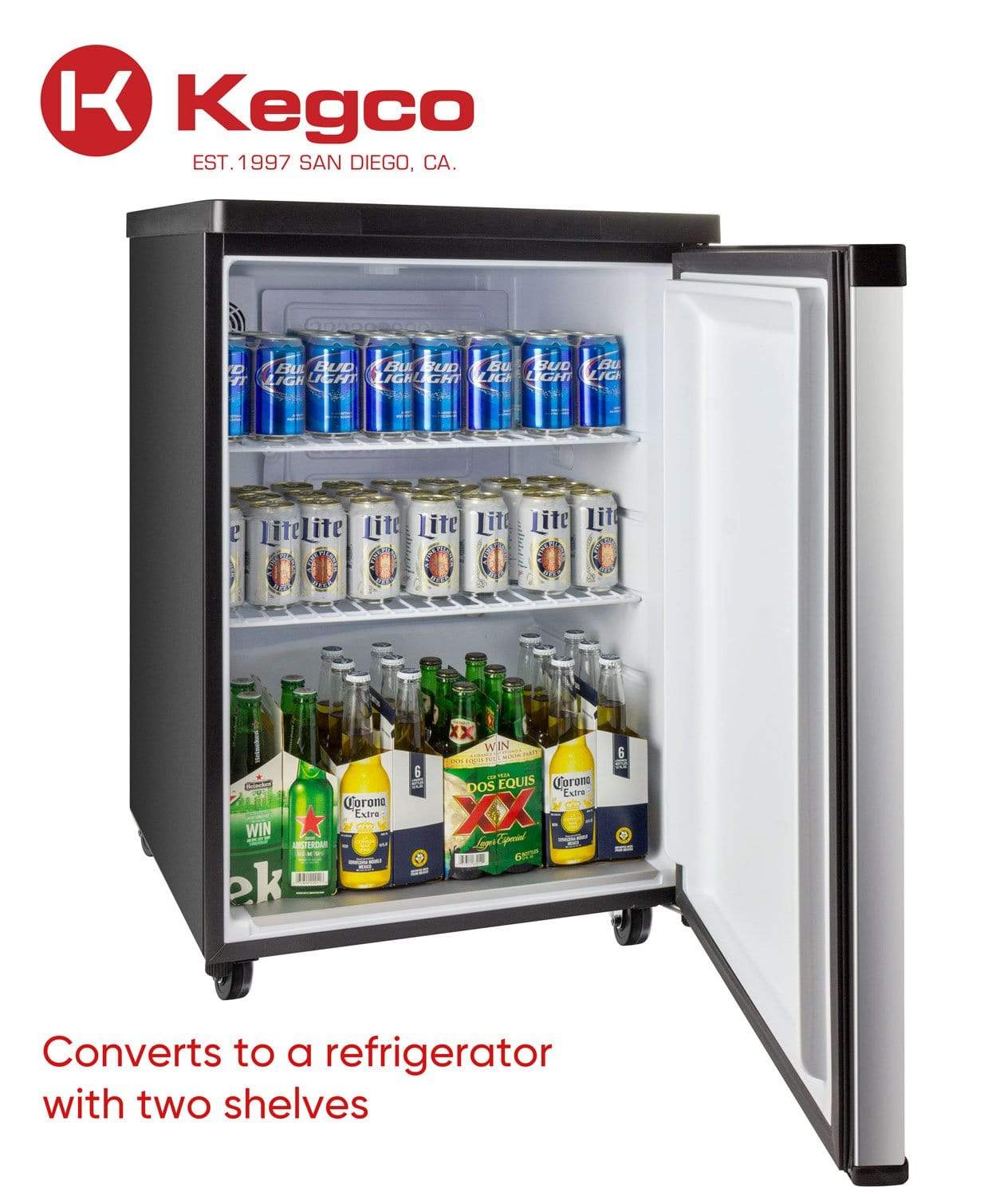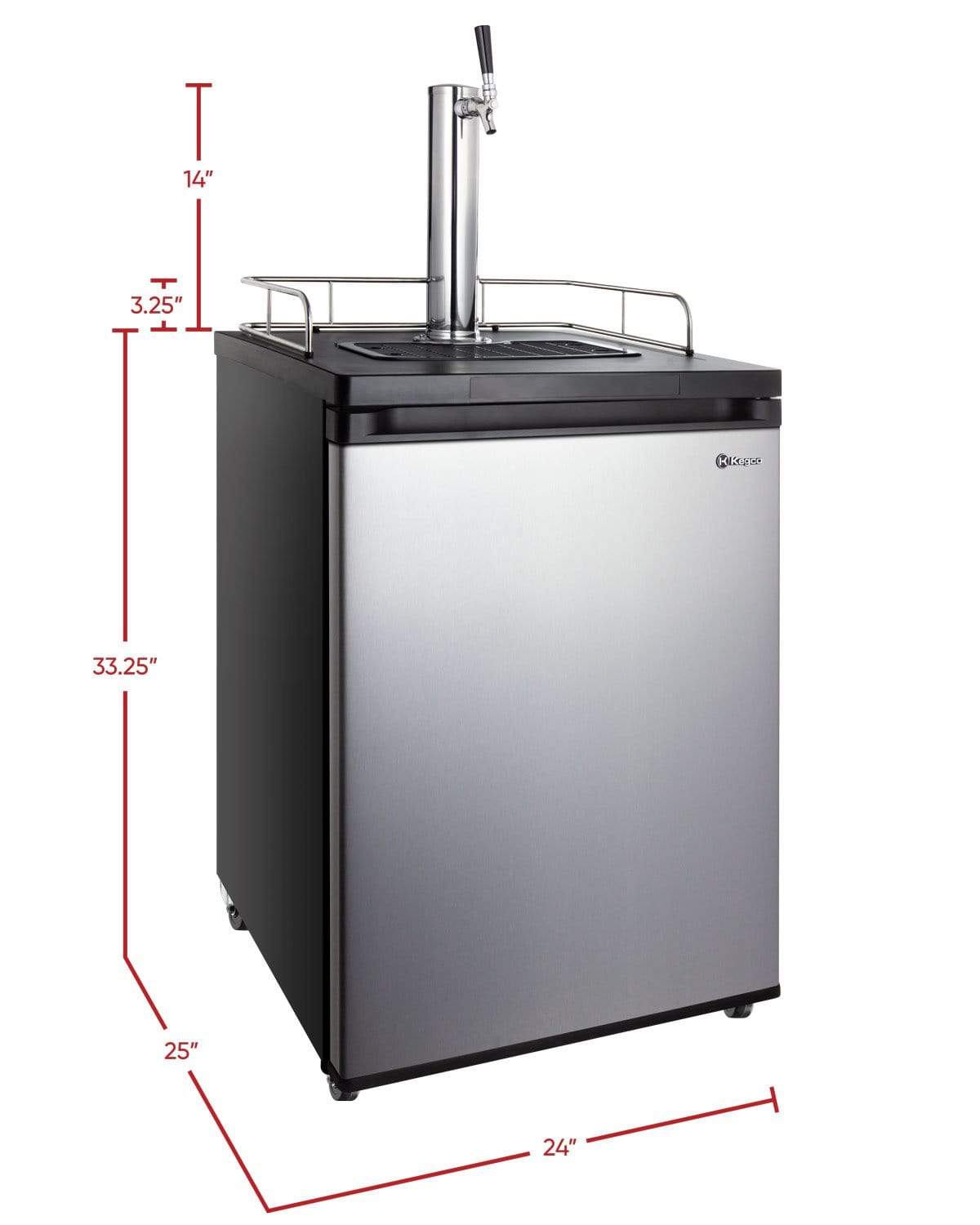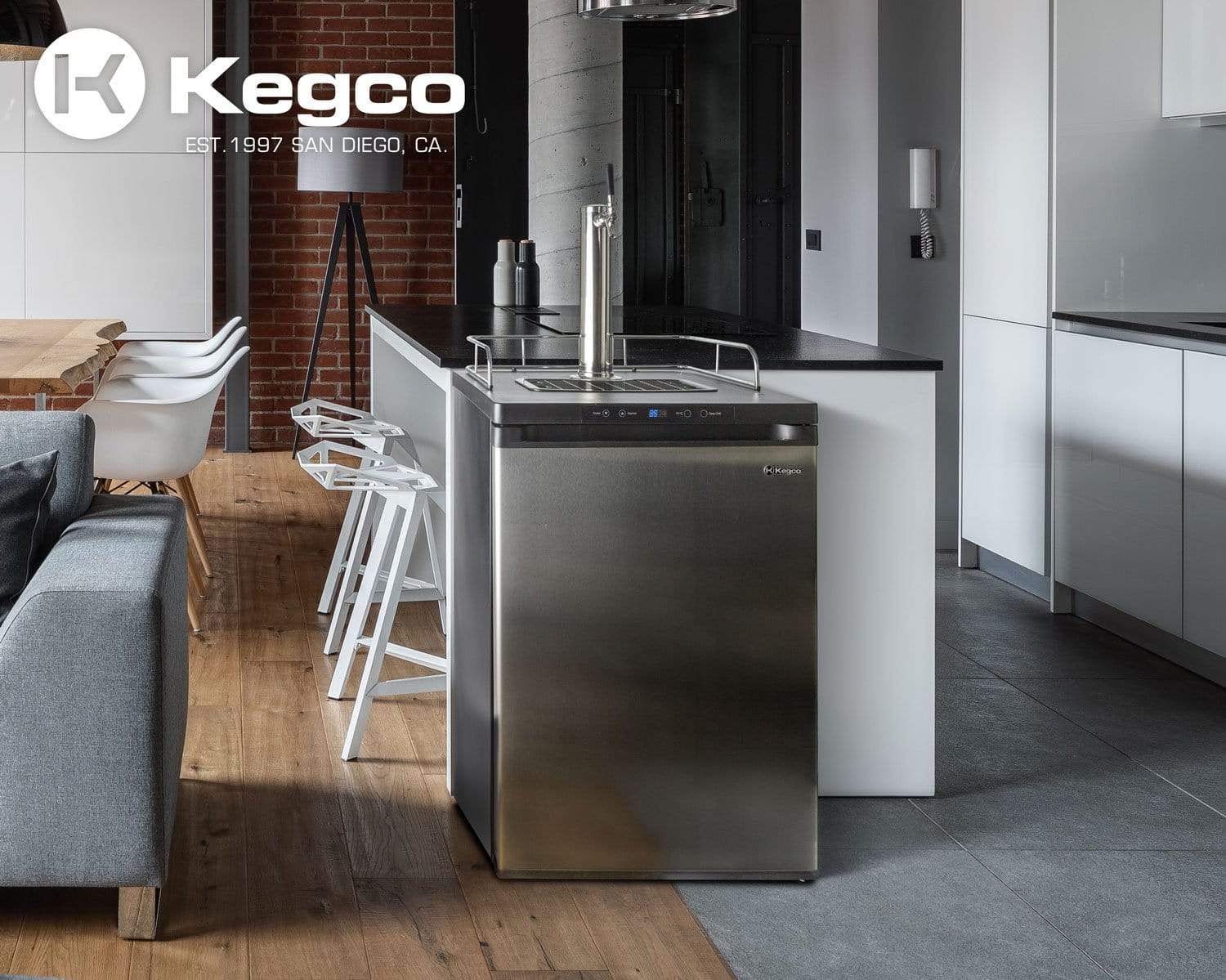 Description Introducing the K209SS-1NK Beer Keg Dispenser from Kegco! This high-performance draft beer kegerator stores your kegs in a sleek black cabinet with a stylish stainless steel door, and includes a single tap draft beer tower. It has a spacious interior that can easily hold one full size, pony, or...
read more
Availability:
31
Qty In Stock
Regular price

$1,311.00

Sale price

$1,049.00

Unit price

per
Similar products you may be interested in
Introducing the K209SS-1NK Beer Keg Dispenser from Kegco! This high-performance draft beer kegerator stores your kegs in a sleek black cabinet with a stylish stainless steel door, and includes a single tap draft beer tower. It has a spacious interior that can easily hold one full size, pony, or quarter slim keg, two 5 gallon commercial kegs along with one 5 gallon home-brew keg, or up to three 5 gallon home-brew kegs, and the stainless steel interior floor plate delivers added durability by displacing the weight of your kegs evenly over the floor of the cooler. When you aren't using this beer fridge to dispense kegs, the two included adjustable wire shelves let you convert the unit into a regular all-refrigerator or beverage center to provide additional refrigerated storage space.
Specially designed for residential use the Kegco K209SS-1NK Beer Keg Refrigerator boasts ultra-quiet performance and an energy-efficient design. Smooth gliding casters make it easy to move the kegerator from room to room in your home, and the casters lock in place to keep the kegerator from rolling away again until you want it to. The countertop features a recessed drip tray with a dishwasher-safe plastic grill for easy clean-up, as well as an attractive and easy-to-install chrome safety rail that gives you the option to store glasses and beer mugs on top of the unit.

Comes complete with a 1,2 and 3-tap keg beer dispense system that features 100% stainless steel contact
Includes chrome guardrail, easy roll locking casters, manual thermostat, and dishwasher safe removable built-in drip tray
One of the largest interior capacities on the market, large enough to hold all full size kegs (including Coors and Miller)
Spacious interior easily accommodates one 1/2-barrel or 1/4-barrel, two 1/6-barrel, or three home brew kegs
Can be converted into an all-refrigerator using the 2 included adjustable shelves for additional refrigerated storage

Dimensions: 33.25" H x 24" W x 25" D
MDK-209SS-01 Keg Beer Refrigerator and Single Tap Draft Beer Dispense System
Includes a brand new 5 lb. Aluminum CO2

 

Tank
This tank is produced from high strength aluminum alloy 6061-T6, a highly corrosion-resistant material. The service pressure is up to 1800 PSI/124 BAR with a test pressure of 3000 PSI/207 BAR. These cylinders are stamped with the required U.S. Department of Transportation and Transport Canada markings. The 320 valves are CGA approved, and have a male thread for CO2 regulators. An average fill is good for 5-6 kegs depending upon your fill.
Includes Commercial Grade Dual Gauge CO2

 

Regulator
The regulator works with any CO2

 

tank with a CGA-320 valve and measures PSI, as well as the volume of the CO2

 

gas in the cylinder. It has a pressure release valve and a large hand control which makes it easy to adjust the pressure inside the keg.
Includes 5 feet of 5/16 Inch I.D. Blue Air Line Assembly with 2 Snap Clamps
This standard length 5 foot 5/16" I.D. blue air/CO2

 

tubing is made of thermoplastic vinyl hose (Super Vinyl). This tubing will not rot, swell, or dry out, and is unaffected by normal cleaning compounds. The air line assembly comes with two plastic snap clamps with a reusable clamp design.
Includes D system lever handle keg coupler that can tap all domestic kegs
This commercial grade lever handle keg coupler works with all American "D" system Sankey kegs. It features a 55-psi pressure relief valve and a nickel-plated forged brass body. To tap a keg, simply pull out and then down on the lever handle.
Includes a 3" Diameter Polished Stainless Steel Draft Tower
This NSF-approved tower is a 3" diameter single faucet metal draft tower made of polished stainless steel and includes 5 feet of 3/16" I.D. clear beer tubing. The faucet, shank, and fittings are all made of 304 grade stainless steel for the ultimate in sanitation. This tower is mounted using the gasket and four screws that are included.
All dispensing accessories are UL recognized components
Converts to refrigerator 2 full-width wire shelves
Large enough to hold all full size kegs (Including Coors, Miller and many additional brands)
Holds: 1/2 barrels / Full Size Kegs (15.5gal), 1/4 barrels / Ponies (7.75gal) and 1/6 barrels (5gal)
Matte black cabinet and stainless steel door
Thermostatic temperature control keeps temperature in range of 35°F-42°F
Maximum Ambient Temperature: 100 degrees Fahrenheit
Minimum Ambient Temperature: The lowest temperature you want to store your kegs at. The unit does not have a heater, so if the ambient temperature is lower than the set temperature, the internal temperature will match the external temperature.
Easy roll casters for mobility
Removable built-in drip tray with grill to collect spills
Chrome guard rail to protect your mugs and glasses from sliding off
Stainless steel interior floor mat for long lasting durability and easy glide of beer keg
Plugs into standard home outlet
Adjustable mechanical temperature control (easily accessed at the back of the unit)
25% more energy efficient design saves you money each month!
CSA Listed
Dimensions
Height
33.25"
Width
24"
Depth
25"
Weight
Unit Weight
96.8 lbs.
Shipping Weight
110 lbs.
Warranty
Labor
1 Year
Parts
1 Year
Compressor (Parts Only)
5 Years
Key Features
Built-in Capable
No
Security Lock
No
Keg Coupler
D System
Regulator
Dual Gauge
CO2 Tank
5 lb.
Cleaning Kit
No
Outdoor Use
No
Commercial Use
No
Keg Storage Capacities
Full Size / 1/2-Barrel
Holds 1
Pony Size / 1/4-Barrel
Holds 1
1/4-Barrel Slim
Holds 1
1/6-Barrel
Holds 2
5 gal. Ball/Pin Lock Keg
Holds 3
Exterior
Cabinet
Black
Drip Tray
Yes
Guard Rail
Yes
Casters
Yes
Draft Beer Tower
Number of Faucets
Three
Material
Chrome
Height
12.25"
Diameter
3"
Door
Color / Material
Stainless Steel
Number of Doors
1
Door Handle
Recessed
Field Reversible
Yes
Accepts Custom Overlay Panel
No
Cooling System
Type
Compressor
Defrost System
Manual
Front Ventilation
No
Controls
Adjustable Thermostat
Yes
Digital
No
Electrical
Electrical Requirements
115 V / 60 Hz
Running Amps
1.7
Warranty Information:
1 Year Parts and Labor
5 Years on Compressor (parts only)
Brand

Full Size

Pony Size

Quarter slim

5 Gallon D System

5 Gallon Ball Lock

5 Gallon Pin Lock

5 Gallon Strap Handle

Kegco
K199

1

1

1

2

2

2

2

Kegco
K209

1

1

1

2

3

3

3

Kegco
K309

1

1

1

2

3

3

3

Kegco
VSK-15

0

0

0

1

1

1

1

Kegco
SLK-15

0

0

0

1

1

1

1

Kegco
Z163

1

1

1

2

3

2

3

Kegco
HK38

1

1

2

3

3

3

3

Kegco
XCK-1

1

1

2

4

4

4

4

Summit
SBC677

1

1

1

2

3

2

3

Summit
SBC635

1

1

1

2

3

3

3

Haier
Kegerator

1

1

2*

2

3

3

3

Danby
Kegerator

1

1

1

2

3

2

3

All Marvel
Kegerators

1

1

1

2

3

3

3

Perlick
HP15T

0

0

0

1

1

1

1

Perlick
HP24T

0

1

0

2

2

1

2

Perlick
HC24T

0

1

0

2

2

1

2

UBC
Kegmaster

1

1

2

4**

3

4**

4**

Beverage Air
BM23

1

1

2

3

4

4

4

Everest
EBD1

1

1

1

2

3

3

3
About the Manufacturer
Manufacturer's Name Kegco
Kegco beer dispensing and refrigeration products are the flagship brand of Cydea, Inc. who continue to be leading innovators in the beer dispensing and refrigeration industry. Their quality products are built to last for years of use for the draft beer enthusiast at heart. From opening to storing, Kegco products are well thought out and quality tested to ensure the best experience for the end user. Our core focus is to produce solid products that are practical, functional and visually appealing all while creating a strong bond with our customers. Backed by top notch customer service, Kegco is available to prospective and current owners before, during and after their purchase.
Compare Similar Products
Products

Summit SBC635MWKDTWIN Freestanding white wine keg dispenser in black with digital thermostat and tap kit 5.6 cu.ft

Wine Dispenser | SBC635MWKD

24 Inch Built-in Custom Tap Beer Dispenser with 1 Half-Barrel Capacity, Digital Thermostat, Automatic Defrost, Locking Casters and Top Guard Rail: Horizontal Handle Stainless Steel | SBC635MBINKSSHH

24 Inch Built-in Custom Tap Beer Dispenser with 1 Half-Barrel Capacity, Digital Thermostat, Automatic Defrost, Locking Casters and Top Guard Rail: Black

Price & Shipping Information

$1,609.50

$2,165.00

You save($555.5) 26%

VIEW ITEM

$1,455.21

$1,955.00

You save($499.79) 26%

VIEW ITEM

$1,439.67

$1,935.00

You save($495.33) 26%

VIEW ITEM

$1,147.74

$1,540.00

You save($392.26) 25%

VIEW ITEM

ID

7679762497760

7679762628832

7679762628832

7679753781472

SKU Number

SBC635MWKDTWIN

SBC635MWKD

SBC635MBINKSSHH

SBC635MBINK

Class

Kegerators

Kegerators

Kegerators

Kegerators